Toledo's Transmission Experts
Google

BBB Rated
Yelp
Family-Owned & Trusted Since 1995
Appointment
Toledo OH

Transmission Repair & Service

While there are few car repairs that are more nerve-wracking than transmission failure, there are more solutions than simply replacing the transmission. Transmission problems can be solved with a range of solutions. That is why it important to make sure that you take your car to a reputable transmission shop in Toledo that specializes in transmission repair. Express Transmissions will make sure that your vehicle is getting the proper repair to bring new life to your transmission.

At Express Transmissions, we specialize in transmission repair services to repair, improve and optimize your vehicle. So far, we've helped clients in Toledo, Perrysburg, Holland, Maumee, Monroe, and Adrian with a huge variety of transmission issues, and we can help you as well. The diverse skill sets of our trusted transmission repair technicians allow us the ability to diagnose and repair just about any transmission problem, no matter how minor, major or complex.

We specialize in transmission services for all makes and models of vehicles, however, that's just the beginning of what we offer. We also offer comprehensive automotive services.

Often it can be difficult for a layperson to tell what exactly is wrong with a vehicle. They might hear a noise or feel a rumble and become aware that a problem exists but have no idea how and where to begin treating it. If you have a vehicular problem, whether you've diagnosed it or not, stop by Express Transmissions, and talk with our trusted transmission technicians.

At Express Transmissions, we have established a reputation for excellent customer service and transmission repair. We strive to live up to that reputation every day. We know how stressful it can be when something goes wrong with your vehicle. Our customers depend on their vehicles to take them where they need to go in and around the Lucas County area, we understand that living without your vehicle can be very difficult.

If you're having problems with your transmission come in or contact us today. We promise that you'll be happy you did.
TESTIMONIALS
Honesty and integrity is rare these days, and we will definitely look to Express for our future automotive repairs. Thanks again for great service and reliable repairs.
I couldn't have asked for any better service then I had received at Express Transmissions. Tyler and Ralph are the best!!
Tanya Mortenson
West Jordan Utah
Very polite and professional
Top notch work.
Patrick Feehan
Maumee Ohio
Special Offers & Savings
Express Transmissions invites those interested in saving on some of the various automotive repairs our auto repair shop offers to check out the special offers provided below.
$99
Save Big $$$
Need Transmission Service?
FREE
Check Engine Light Offer
Check Engine Light On? Get a Free Inspection!
Express Transmissions is pleased to introduce our valued team of automotive repair & service specialists. Our staff is dedicated to ensuring our customers get only the best auto repair in Toledo, at the right cost, and to their complete satisfaction.
Bill Wilson

Bill Wilson




Owner

Tyler Wilson

Tyler Wilson




Service Adviser

Ralph Buck

Ralph Buck




Service Adviser

Rick Waite

Rick Waite




Shop Manager

Dave Alford

Dave Alford




Rebuilder

John Beckham

John Beckham




Technician

Mike Kohlhofer

Mike Kohlhofer




Technician

Cody Berlin

Cody Berlin




Technician
Bill Wilson
Owner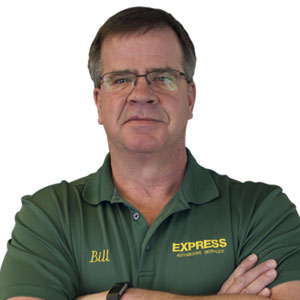 Born and raised in Toledo, Bill Wilson has always been a committed member of the community and family leader. He is the father of two sons. The youngest is presently a member of the Express Transmissions team with hopes of taking over the family business down the road.
Tyler Wilson
Service Adviser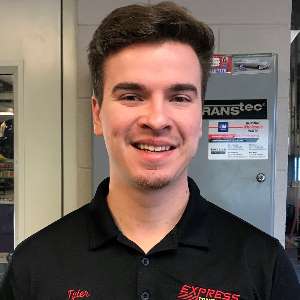 Tyler Wilson, Service Advisor. Tyler started with Express right out of high school and has worked with the company since 2015. He has been around been around cars all his life and raced jr dragsters till he was 15 years old. Tyler is owner Bill Wilson's son. "I love working here because of the staff. As a service advisor I am always confident that when we recommend a repair or replacement we will stand behind our work."
Ralph Buck
Service Adviser
Ralph Buck Jr, Service Advisor. Ralph has been with Express since 1997. He is a resident of West Toledo with his two children. He has been in automotive repair since graduating high school. "What I love about working here is that I am absolutely confident that we will do the job right the first time, every time. That makes working with our customers easy."
Rick Waite
Shop Manager
Rick Waite, Shop Foreman. Rick has been with Express since 2012. Prior to that he was a welder. He is ASE Master Certified. Rick is engaged, has two children. "Our integrity is the biggest thing I love about what we do. I don't want to work for someone who just wanted to get the job out the door and get paid. We want things done right. This is a clean shop with great people."
Dave Alford
Rebuilder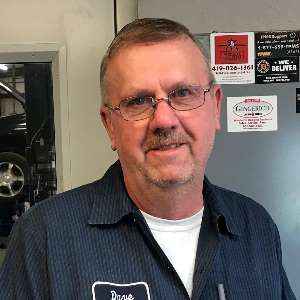 Dave Alford, Transmission Rebuilder. Dave started with Express in 2006. Prior to that he owned his own shop for 20 years. He is married, has two children and lives in Temperance MI. "When the economy started to slow, I looked at closing my own shop, Bill needed a rebuilder. It didn't take me long to recognize that this was a good fit. When it comes to transmission work cleanliness is vital and our shop meets high standards. Everyone here is dedicated and professional. That's what people want and deserve."
John Beckham
Technician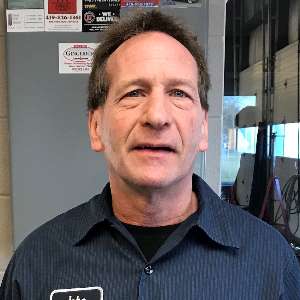 John Beckham, Diagnostic Technician. John has worked at Express since 2013. He is ASE certified in Automatic Transmission and Automotive Electrical. John is married with 3 grown children. "I was truly impressed with how homey Express is and that is why I love working here. If anyone asks me why they should bring their car here I have no problem saying that we are the best. Period."
Mike Kohlhofer
Technician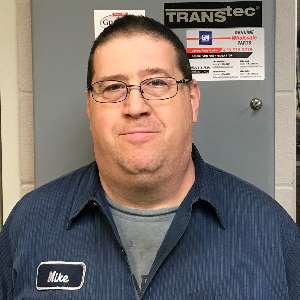 Mike Kohlhofer, Remove/Reinstall Technician. Mike has work for Express since it was established in 1995. Prior to then he worked in the construction field but he knew that's not what he wanted to do for a living, when Bill came knocking on his door Mike jumped on board with Express Transmissions. Mike is married with 12 kids, 5 in which he is currently fostering with his wife Lisa. Mike is still with us today is because he loves his job and his co-workers. Mike is a great example of a loving, loyal, and passionate employee of Express Transmissions.
Cody Berlin
Technician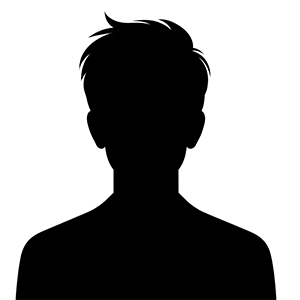 Cody Berlin, Remove/Reinstall Technician. Cody has work for a few other automotive shops while he's been in the automotive field. He came crossed Express Transmissions in late 2020 and found his home. Even being a newer member for Express he has his footing and is working out great with the culture of Express. He is excited to see what the future holds for him at Express Transmissions!
Express Transmissions
931 Hamilton Dr
Holland OH
43528
Weekdays:
8 AM to 5 PM
Closed Weekends